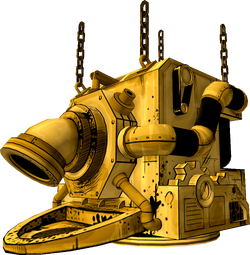 Bendy and the Ink Machine "Chapter 5"  was just released and instead
of writing about that (because somebody took it) I will talk about the whole game and summarize the story:
Chapter 1 Moving Pictures
You get a letter from you old friend/coworker to see what he has made. Your name is Henry Stein the person who sent you the letter is named Joey Drew. Instantly you get this creepy, but cartoony feel. There is nobody there, but there are little films playing and you eventually find the ink machine
You go into another room, and you have to find a special items. You have to put them on the podiums to activate the ink machine. You walk back to enter the room, and you see that its boarded up and full of ink. Then  THE INK DEMON jumps out and  gives you the biggest jumpscare. You run to the exit and just before you reach the door the floor collapses…
Chapter 2 The Old Song
You wake up from that 100 foot drop somehow. You see pentagrams on the floor and coffins leaning on walls. Now you try to find a way out of the hole you fell into. You pick up an ax and chop the wood blocking the door and walk down the steps. In this chapter your first enemies are introduced: the searchers. The searchers are the inky monster that come out of ink puddles. When you walk down one of the hallways, you see this inky figure that's not bendy because bendy doesn't wear overalls and is not a searcher because searchers don't have clothes,but someone else. When you walk down a hallway, you get hit over the head and get knocked out. When you awaken, this person covered in ink stands before  you. He has a bendy mask and wears overalls. (It was the figure you saw before.) His name is Sammy Lawrence and remember the pentagrams? That was him too.
He is trying to sacrifice you to Bendy THE INK DEMON.  He chants this text to attract the demon. When the door opens up, instead of the demon charging at you, the passageway is empty. You here Sammy's voice over the intercom being attacked by Bendy. The latches open, and you grab the nearest weapons. Then you fight off the Searchers. After the battle you run until you reach an spit in the passage and then right in front of you Bendy comes out ( makes you jump out of your chair) and then you RUN FOR YOUR LIFE! You turn one corner and Boris meets you there. The screen fades and the chapter ends… or does it?